I have a secret to confess. I'm a cookbook-aholic. Seriously. I would come home from a day out with so many new cookbooks that I would literally need a new bookshelf. But here's the thing, I probably never opened at least 90% of them again after the first time. That's because I found that most of them weren't practical, weren't any different from the others, or were just WAY too complicated.
However, I have always loved and enjoyed Michael Smith's cookbooks. For those of you who may not be familiar with him, he is an award winning chef who makes his home in Prince Edward Island, and is the host of Chef at Home, Chef at Large, and Chef Abroad, to name a few.
In fact, it was because of watching Chef at Home with my son and making those meals together, that my son went through the Culinary Management program and is now working as a Chef de Partie.
So, imagine my delight when I was given the opportunity by Penguin Canada to review Michael Smith's new cookbook Michael Smith Family Meals.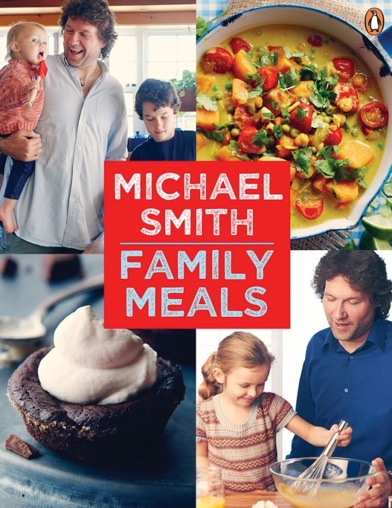 The cookbook collector in me can't tell you how excited I was to receive this in the mail!       I couldn't wait to sit down and go through it and I definitely wasn't disappointed. Every recipe has a full colour, full page picture to accompany it. None of the recipes are complicated or have unusual foods or spices that you need. In fact, most of the recipes call for what you should already have in your pantry, refrigerator, freezer or your garden.
The nutritionist in me was overjoyed as well. These recipes are nutritious and family friendly. I know that in today's busy world, it is so easy to phone in your dinner order, pick up at the drive through window, or buy pre-packaged foods to take home and heat up in the microwave; however, I also know that healthy, nutritious and tasty meals can easily and painlessly be prepared at home. This is something that Michael Smith references in his book, and was in fact the inspiration for him sharing these family favourite recipes. Recipes that he makes for his own family each and every day.
Michael involves his children in the daily cooking so these recipes are kid tested and approved. The cookbook features many pictures of his children helping prepare (and eat!) the meals. The book offers tips and suggestions for getting your family cooking together and cleaning up together as well. What busy mom or dad wouldn't love that?
So, here is my new favourite recipe and one that I know is going to be in regular rotation for my own family.
Sweet Potato Chickpea Stew ( recipe reprinted with permission)
Serves 4 to 6
2 tablespoons (30mL) of vegetable oil
1 large onion, chopped
4 garlic cloves, sliced
2 tablespoons (30mL) of curry powder
2 large sweet potatoes, peeled and cut into 1-inch (2.5 cm) cubes
A 19-ounce (540mL) can of chickpeas, drained and rinsed
4 cups (1L) of water
1 teaspoon (5mL) of salt
A 14-ounce (400mL) can coconut milk
2 cups (500mL) of fresh or frozen green peas
1 pint (500mL) of cherry tomatoes, halved
½ teaspoon (2mL) of your favorite hot sauce
The zest and juice of 1 lime
A handful of fresh cilantro sprigs
Splash the vegetable oil into a large pot over medium-high heat. Toss in the onions and garlic and cook, stirring as the onions soften, 5 minutes or so. Sprinkle in the curry and stir for a few moments to brighten its flavor. Toss in the sweet potatoes, chickpeas, water and salt. Bring to a slow, steady simmer, then simmer long enough for the sweet potato to soften, 20 minutes or so.
Pour in the coconut milk, peas and tomatoes. Continue cooking just long enough to heat everything through. Season with the hot sauce and lime zest and juice. Serve and share with the cilantro sprinkled over every bowl.
————————————————————
As Michael Smith says "Cooking for your family can be one of the most rewarding things you can do in your life. And real food is the right way to go. The decisions you make in your kitchen now will have profound effects in the years ahead. We truly are what we eat, and none of us wants to be factory-made. Homemade all the way!"
I agree Michael, I definitely agree.
Family Meals by Micheal Smith was published on August 5th, 2014 by Penguin Books Want your own copy of this fabulous cookbook? Click here to get your copy!