I don't know about you, but I don't need a special day to celebrate chili and all its deliciousness!
This warming and filling meal is also extremely nutritious.
In Spanish, the word chile from the Nahuatl "chīlli" refers to a "chili pepper", and carne is Spanish for "meat".
According to Wikipedia, The original recipe consisted of dried beef, suet, dried chili peppers and salt, which were pounded together, formed into bricks and left to dry, which could then be boiled in pots on the trail
Many people think that Chili originated in Mexico, however, food historians agree that it is an American dish.
In 1893 at the Chicago World Fair, the San Antonio Chili Stand served chili to visitors and helped people taste and appreciate the dish. By the turn of the century, chili parlors were popping up in towns across the US.
Here are some interesting facts about chili.
National Chili Day is held every year on the fourth Thursday of February
Did you know that Chili was designated the official dish of Texas in 1977?
It has been said that chili joints meant the difference between starvation and staying alive during the Great Depression since chili was cheap and crackers were free
Vegetarian chili is technically chili sans carne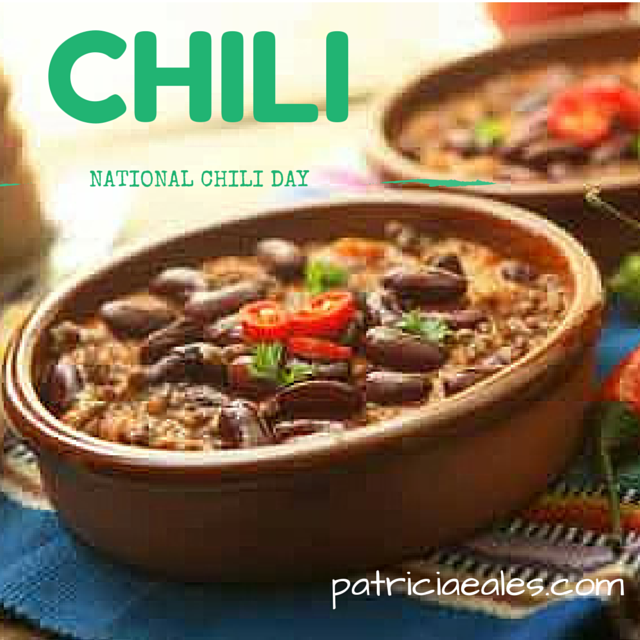 There are many debates over what ingredients make a 'true' chili con carne. Many people associate chili with beans of some type, however, in "Texas-style chili" beans may not be included in the dish. Other versions may not include tomatoes.
Do you have a favorite chili recipe, or a favorite way to serve it? Do you add sour cream, grated cheese or sliced avocado to your chili? Do you like it with or without beans? Mild, hot or scorching?
No matter which way you eat it, chili is a great food to warm you up on a cold day.
Here is my favorite chili recipe!
Ingredients
1 tsp oil (I use coconut oil, but olive oil or grapeseed oil are also good choices)
1 onion, diced
6 gloves garlic
3 jalapenos, roasted, peeled and sliced
3 poblanos, roasted, peeled and sliced
1 chipotle chile in adobo sauce, seeded and minced (optional for more heat)
2 teaspoons adobo sauce from the can of chipotles
1 tsp ground cumin seeds
1 tsp ground coriander seeds
1 – 28 oz can pureed tomatoes
2 – 28 oz cans diced tomatoes
1 – 2 cups water
2 tbsp oregano
2 – 4 tbsp chili powder or to taste
1 – 15.5 oz can black beans
2 – 15.5 oz cans chickpeas
1 – 15.5 oz can adzuki beans (or kidney, pinto or cannelini)
Salt and Pepper, to taste
(meat option – add in 1 pound ground turkey, chicken or thinly sliced steak)
Feel free to add in any veggies that you wish (corn, carrots, sweet peppers, etc.)
Directions
In a large pot, heat oil. Add onion and sauté 5 minutes. Add garlic and continue to sauté for 2-3 minutes.
Add in poblanos and jalapenos and chipotle chile and sauce (if desired) Saute for a another 3 or 4 minutes.
Add in cumin and coriander. Toast for 2 minutes, continually stirring.
Add in the rest of the ingredients.
Bring to a simmer.
Cook for at least 30 minutes. If you have time allow to cook at a low and slow pace about 2 hours.
When ready to serve, stir in a handful of kale to add more greens.
Test chili and adjust seasoning as needed.
Garnish with any of the following:
fresh cilantro, sliced or chopped avocados, sliced green onions, tortilla chips or lime wedges.
Enjoy!